If you recall from my last article on the price of film, I mentioned snatching up a Minolta Repo for cheap, griping about the creation of the Holga half-frame, (a.k.a. Kodak Ektar H35), and how sometimes the best thing to do is grab a cheap digital camera from a thrift store and go have some fun. Well…
The Minolta REPO was in mint condition for a completely broken camera. I should give the seller a negative rating, but a) I hate eBay and should have never been on the site to begin with, b) It's my own fault for buying from a seller with 97.7% positive ratings, and c) the guy shipped it from Japan in 4 days. Maybe it worked when he shipped it and got whacked pretty hard when it landed in the US. Oh well. I ate ramen noodles all week to cover the expense.
I also decided to take my own advice and go grab a digital camera from a thrift store, and that store being shopgoodwill.com. The site is hit or miss, really. Imagine if eBay had a bazillion tons of junk spread across 50 states and controlled the entire process. Expect shipping from Louisiana to Memphis to take 5 days of 'handling' before any 'shipping' happens, most likely non-functional purchases, and bad attitudes if you have to reach out for support. But the stuff is cheap.
I started with a Nikon Coolpix <insert random weird model number> 10 megapixel camera complete with case, battery, charger, power cord, and instructions. $22. It's blue. I like blue. Well, I'll find out sometime after you read this if what was in the picture is what I get. I am part of the Digicam Photo Share Facebook group and I wanted something better than my battery-vampire soul-sucking experience Takashi. Did I mention I bought rechargeable batteries for it and it eats those in ten minutes, too ? Ugh!
Well, not to be outdone, I wanted a Canon Powershot Ixy 55. These 5 Megapixel cameras run about $200 on eBay right now, but I stumbled across the secret — it's actually only called Ixy in Europe. In the US it's just the Powershot SD400. A lot of cameras are like that. If the cool kids are buying up some specific camera in bulk, you can be assured you'll find it cheaper if you search for the US model number or the EU model number (whichever is less well-known) So, instead of spending $200 on a 5 Megapixel camera from 2005, I got one complete with all the books, the box, the battery and charger, and the USB cable for $28.
Five megapixels, really ? Yeah. I'm doing a personal project and wanted to use that specific sensor depth.
All that being said, the real gem I found on the 'bay was a 1997 "Sylvester and Tweety Bird" disposable camera. It, not unlike my newly-acquired Minolta REPO, is a shelf queen. I'm a collector of camera oddities, and when I saw this little camera I had to have it.
More on the film front, I stopped by our local high school and hung out with the photography teacher. She's so cool. She's building a darkroom for her film photography students and needed some help sifting through what was donated to her and what she might need to purchase. She'll be taking her photography club to the University of Memphis darkroom (I didn't even know they still had one) and I can't even express how cool it is that she's exposing them to the joys of film. As luck has it, this year I'm repeating my presentation on film photography for her class next week! The kids had fun at the last one and this class is considerably larger. I'm pretty stoked.
If you know me on more than just a newsletter level you know I'm a YouTube junkie. I love film photography vids. This week, Molly over at Eclectachrome did a great video of her trip to Portugal and adventures with different color and bw films. Be sure to check it out and give her a subscribe!
Next up, TheOldCameraGuy finally jumped on the hipster bandwagon like I did and fired up his digicam! He's got a great video about it and the shots he got were pretty fantastic. It's nice that somebody else in the film community is grabbing a digicam. When I was in a photography group here in Memphis, everybody but me shot digital and one of the photogs was a total ass about how horrible he thought film was and how he'd never go back to using it. People in the film community may joke about using evil digital cameras but the reality is we'll use any camera we can get our hands on and find ways to have fun. Remember that, kiddos. The Digital Darkside may have cookies, but us Film Rebels with Canon Rebels have fun.
I did manage to get out and shoot my Nikon F100, Saturday. What a beautiful camera. I ran it with the 50mm f/1.8 D lens. I'm old and crotchety about being able to use my aperture ring on the lens, otherwise I'd have the G series. What's even cooler than that is my wife, Jen, took my Fujifilm X100T and really enjoyed shooting it! We need more photo walk dates. ❤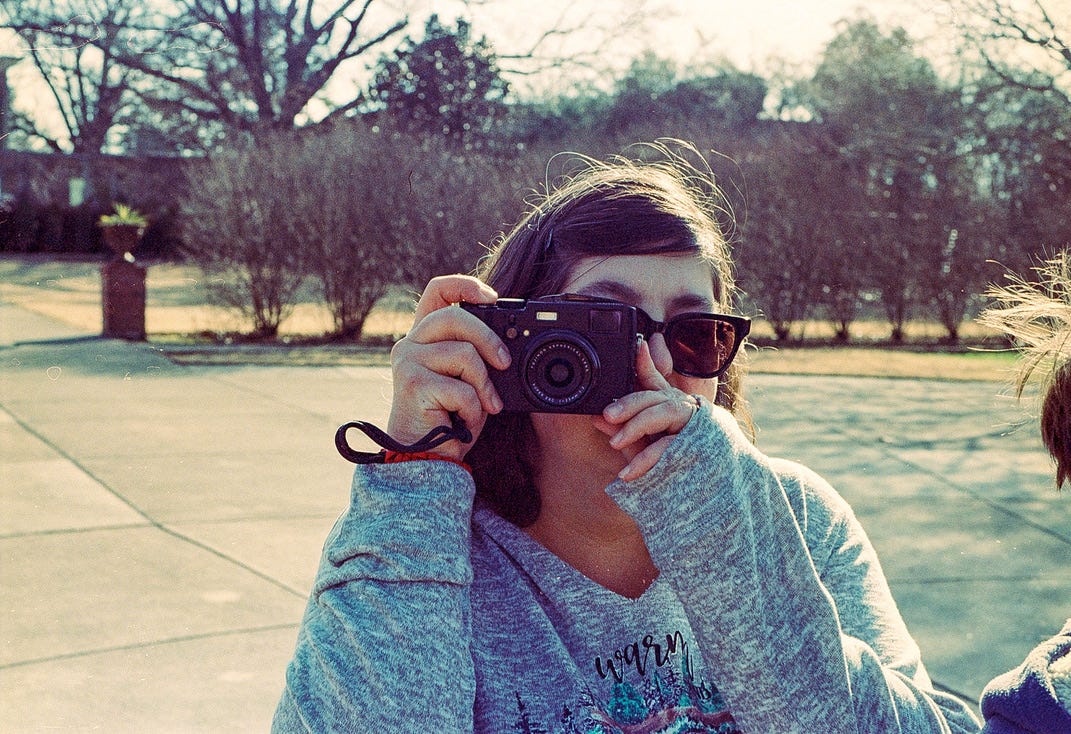 We had our son in tow this time and he's at this great age where he wants to try just about everything. Scouts, guns, camping, cameras, and now he's into Pen Aire sketching. I wish I was his age again, but I'll just have to enjoy that age vicariously through-and-with him.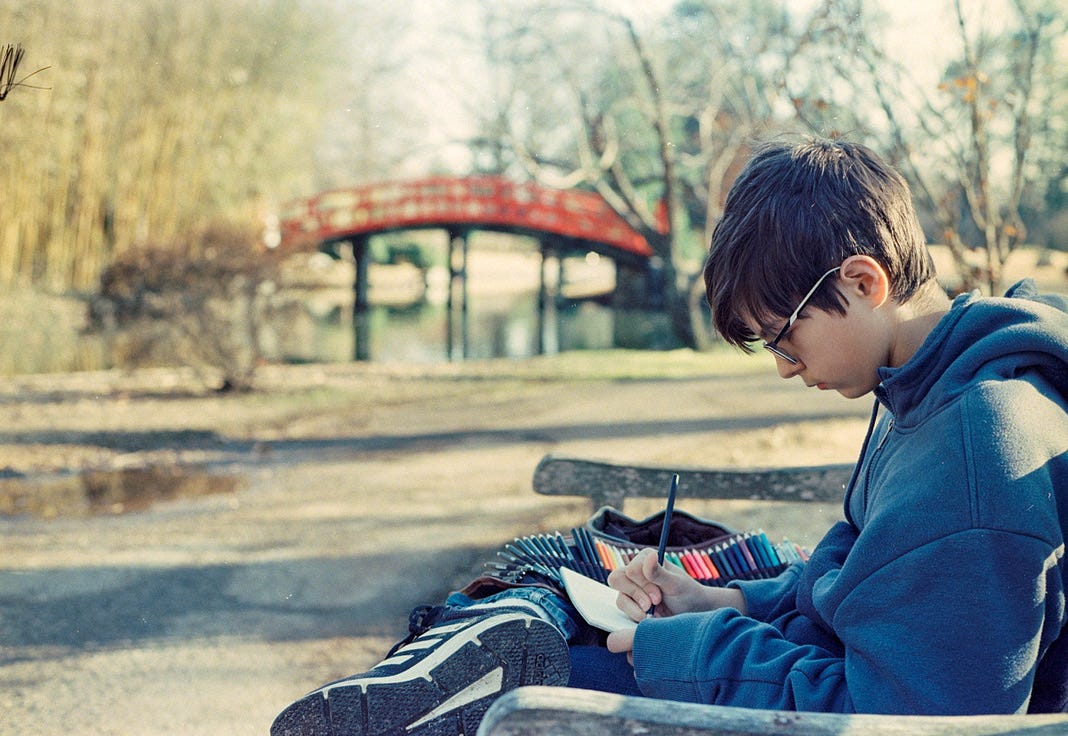 I've got all the equipment for the photography studio collected and I started converting the spare room in my office into the studio. More to come on that.
I hope everybody has a fantastic weekend and a great next week. Be sure to take a pause here and there and thank the Creator for each fantastic day you get to go shoot some photos and enjoy the scenery. I'll follow up next week after the photography presentation at the high school. Stay broke, shoot film (or digicams) !
-Aragon